8th micro & nano event
27th & 28th September 2012
Micro & Nanotechnologies crossed to Smart materials, surfaces and systems
The chosen topics are covering many industrial needs.
A first cooperation has been engaged with EPoSS, European Platform for Smart Systems Integration. To deepen the links with European platforms could be really fruitful for the next coming years.
Topics linked to recent developments in Franche-Comté area and notably to the National project "ACTION" related to smart systems integrated into the heart of matter, led by FEMTO-ST.
ARIST Franche-Comté, as Enterprise Europe Network member, organized in January 2011 a meeting involving EPoSS, FEMTO-ST
and Pôle des Microtechniques. FEMTO-ST is now member of EPoSS.
FIGURES

For the first time, participation of the 4 Competitiveness clusters covering Franche-Comté area
(Pôle des Microtechniques, Pôle Véhicule du Futur, Plastipolis, Vitagora).

« A great first experience »
USA

« All perfect »
Italy

« Good meeting; packed our 8 meetings into one long day
coming up from Grenoble and back. Ideal! »
France

« Very good organisation,
all meetings were quickly fixed
by organisation »
France

« Quality meetings, nice social events, good organization : simply a great event, thanks for organizing! »
Netherlands

« No comment »
Czech Republic

« 3 out of 9 meetings will have a follow up. This kind of meeting is in my eyes extremely useful. I will attend again »
France

« Perfect event, with very interesting co-operation in sight.
Best among the last ones »
France
BENEFITS
7 COOPERATION REACHED


Impact of the previous edition
The results of the brokerage event are linked to the services, provided by the Enterprise Europe Network partners.
Confident relationships built with the companies and research institutes or clusters are of first importance and have been developed over time.
More than a brokerage event
Micro & Nano Sector Group Meeting @Temis with FEMTO-ST, 26 Sep. 2012
Focused on smart materials and systems, the meeting took place in Temis Innovation, building located in the technological park that hosts the Incubator and the Business Center.
Presentation of FEMTO-ST institute and main research topics by Nicolas CHAILLET, manager.
Presentation of CRYSTAL DEVICE TECHNOLOGY, spin-off of FEMTO-ST that specializes in micro-components based on smart ferroelectric materials.
Official launch of Microtechnics Alliance, 26 Sep. 2012
Pôle des Microtechniques booth – 4 clusters (3 countries : Germany, France, Switzerland) :
Pôle des Microtechniques / Minalogic / Micronarc / MicroTec Südwest – the birth of a new meta-cluster
Enterprise Europe Network meeting point, 25 to 28 Sep. 2012
All along the fair, the Enterprise Europe Network booth welcomed 4 co-exhibitors.
It was the meeting point of the network and links could be created with exhibitors and visitors.
International clusters workshop, 28 Sep. 2012
ALPS4EU, Enterprise Europe Network and Micro & Nano sector group initiative.
Favoring meta-clusters emergence.
11 clusters.
Pitch elevator to get to know better (short presentation, cooperation ideas).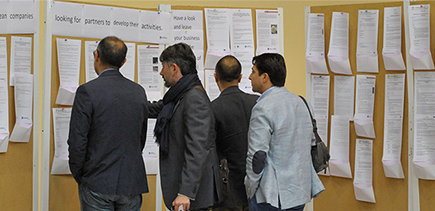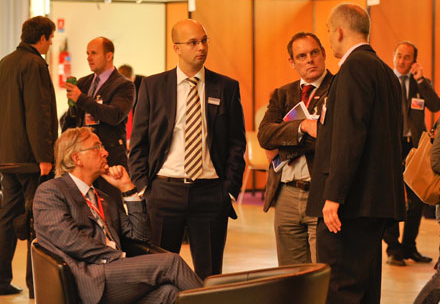 A networking lunch
A convivial evening:
Besançon, l'originale Franche-Comté
The convivial evening was organised in Chapelle Bacchus with Théâtre Bacchus funded in Besançon by Jean Petrement.
Jean Petrement welcomed the participants, explaining the history of the Chapel and telling stories around " The painter's workshop", the famous Gustave Courbet painting.